Los Angeles can't seem to get enough of food festivals.  The middle weekend in October is jam packed with events!  While LA Weekly's Brunch at the Races is unfortunately already sold out, at least four other food festivals have caught my eye this coming weekend:
On Saturday, October 17th, the inaugural Off the Hook Santa Monica Seafood Festival is happening on the Santa Monica Pier.  Participating restaurants include Catch, FIG, Herringbone, Il Grano, The Jolly Oyster, The Lobster, Santa Monica Seafood, and more!  Tickets are $70/$100 for VIP.
Also on Saturday, October 17th, the fifth annual Taste of Mexico will take place at La Plaza de Cultura y Arts in Los Angeles.  Boasting 30+ restaurants, the event covers a wide spectrum of Mexican cuisines.  I'm particularly looking forward to Ceviche Project, Corazon y Miel, Guerrilla Tacos, Petty Cash Taqueria, and Tacos Punta Cabras!  Tickets are on sale:  $65 for General Admission, or $85 for VIP, which includes early admission!
On Sunday, October 18th, Los Angeles Magazine is holding its 10th annual The Food Event at Saddlerock Ranch in Malibu, with 20+ wineries and 35+ restaurants, including Animal, Bestia, Jitlada, Leona, Night+Market, Petty Cash, Republique, Sweetfin Poke, Terrine, and Union.  Tickets are $125/$135 including the after-party.
Also on Sunday, October 18th, the second annual Eastside Food Festival will be taking place at the Mack Sennett Studios in Silver Lake, featuring 30+ restaurants, markets, and food and drink purveyors, all from the Eastside.  I'd make a bee line for B.S. Taqueria, Carnitas El Momo, Little Jewel, Ohana Poke Co., Pine & Crane, and Starry Kitchen!  Tickets are on sale for $65/$75 at the door, or $80/$90 at the door for VIP, which includes early entry!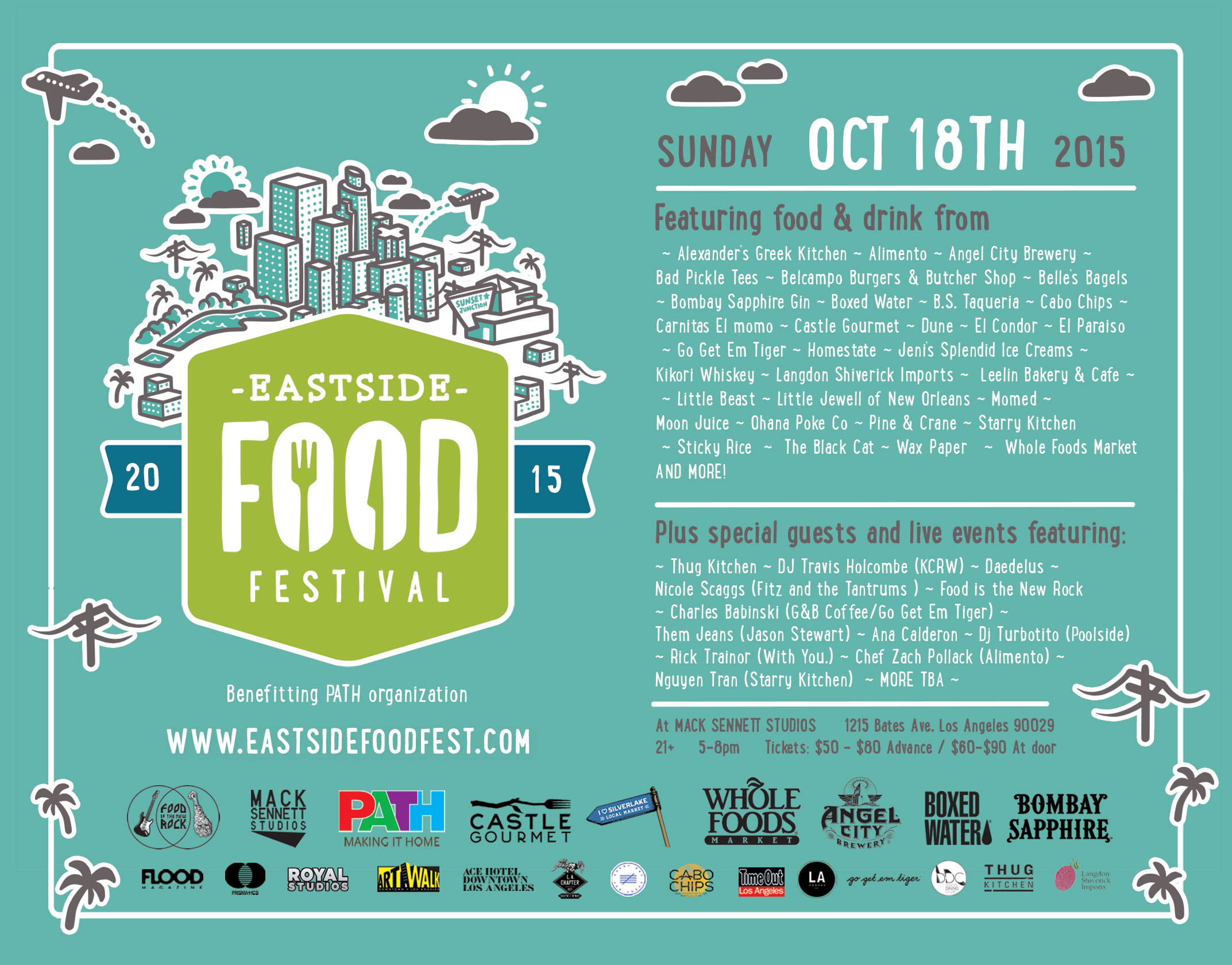 I'm attending Taste of Mexico on Saturday, and Brunch at the Races on Sunday.  I'm probably going to Eastside Food Festival.  If I can also attend The Food Event, that would be three events in one day!  And if I go to Off the Hook too, then that'll be five events in one weekend!  Am I crazy enough to do it?  Stay tuned on my blog and Instagram!