Can't believe it's already July!  Starting with one big 3-day food festival at toward the beginning of the month and then four different food events happening the last weekend of the month, you should be able to find something that suits your fancy in July!
July 8-10, 2016 – LA Food Fest:  Rebranded from its original name, the LA Street Food Fest, this year makes a major expansion and changes to the event. Instead of one day at the Rose Bowl, LAFF takes place over three days at Exposition Park.  Participants include Button Mash (Starry Kitchen), El Coraloense, Howlin' Ray's, Knuckle & Claw, Ricebar, and more!  There's a series of special chef-hosted Rose Garden events.  The usual unlimited-samples food festival experience has been dubbed the VIP Golden Hour, even though it includes 2 hours of access, while a more affordable a la carte general-admission MRKT option has been added.  Tickets range from $18 to $160+ depending on what experience you're after.
July 15, 2016 – East LA Meets Napa World Tour:  This annual fundraiser benefitting AltaMed, a non-profit healthcare provider that supports underserved communities in Southern California is going global this year with celebrity international chefs including Ana Quincoces, Ingrid Hoffmann, Doreen Colondres, Katsuji Tanabe, Hamlet Garcia, and more.  Early Bird tickets are available for GA at $175; regular price is $200.  VIP access is $300.
July 29, 2016 – Luckyrice:  The pan-Asian-themed food event is being hosted this year by the folks behind Seoul Sausage, brothers Ted and Yong Kim and chef Chris Oh, at Vibiana in DTLA.  Participants include Ayara Thai, Hinoki and the Bird, Komodo, Lao Tao, Parks BBQ, Starry Kitchen, and Tatsunoya.  Tickets are $88 for GA or $150 for VIP w/one hour early entry.
July 30, 2016 – Burgers & Beer:  Featuring over 30 restaurants including Barrel & Ashes, Fritzi, Plan Check, Terrine, and more, as well as breweries such as 21st Amendment, El Segundo Brewing Co., Firestone Walker, Lagunitas, Pizza Port, and others, the second annual beer and burger fest should be a blast.  Take the Expo Line to the Coliseum so you don't have to worry about the drive.  Tickets are $95 for VIP w/early entry, $75 for GA, or $219 for a "Buddy Pack" of 4 GA tickets ($55/person).
July 31, 2016 – Live & Dine LA:  Moving to the summer this year, this event at the posh Fairmont Miramar in Santa Monica has an impressive line-up including The Arthur J, Broken Spanish, The Cannibal, Herringbone, Little Sister, Moruno, Redbird, Trois Familia, Union, Viviane, Wolf, and more!  Tickets are $95 + fees.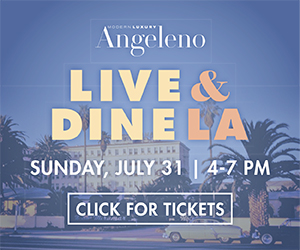 July 31, 2016 – Stu and The Kids:  This fundraiser for orphaned children in Thailand draws top-notch talent to support the cause, including The Bellwether, Mare, Night+Market, Playa Provisions, Pok Pok LA, Republique, Spago, and more.  Hosted at Vibiana, the chef Neal Fraser and his crew at Redbird should have their hands full considering they're also at Live & Dine LA happening the same day!  Tickets are $125 for GA, $195 for VIP, which includes a special cooking demo by chef Jet Tila 90 minutes before the event starts.