October starts off with a pair of food festivals that span the Westside to the Eastside, and continues with many other food events throughout the month.
Saturday, October 1st – Off the Hook Seafood Festival:  The second OTH seafood festival on the Santa Monica Pier is a relatively small food event, but the line-up is still quite sea worthy (sorry, bad joke).  Participants include 1212 Global Dining, Herringbone, The Lobster, Sushi Roku, and Yamashiro, while the VIP lounge features Ashland Hill, FIG, Mare, and Red O.  Tickets are $70/$100 for GA and VIP respectively.  Read my review of last year's event to see what to expect!
Sunday, October 2nd – EastSide Food Festival:  I had so much fun at ESFF last year!  This year's ESFF features such Eastside favorites as Button Mash/Starry Kitchen, HomeState, Knuckle & Claw, Ohana Poke Co., Trois Familia, as well as newcomers Same Same, Sawyer, and more!  There'll be cooking demos on Big Green Egg grills by Ray Garcia (Broken Spanish, BS Taqueria) and Steve Samson (Sotto, Rossoblu), and Alvin Cailan (Eggslut, Unit 120) and brothers Arjun and Nakul Mahendro will be live-podcasting an episode of their Super Amazing Restaurant Show from the event!  Tickets are $65/$95 for GA and VIP (which gives early entry, gift bag, extra drink tickets) for advanced sales, and go up $10 at the door.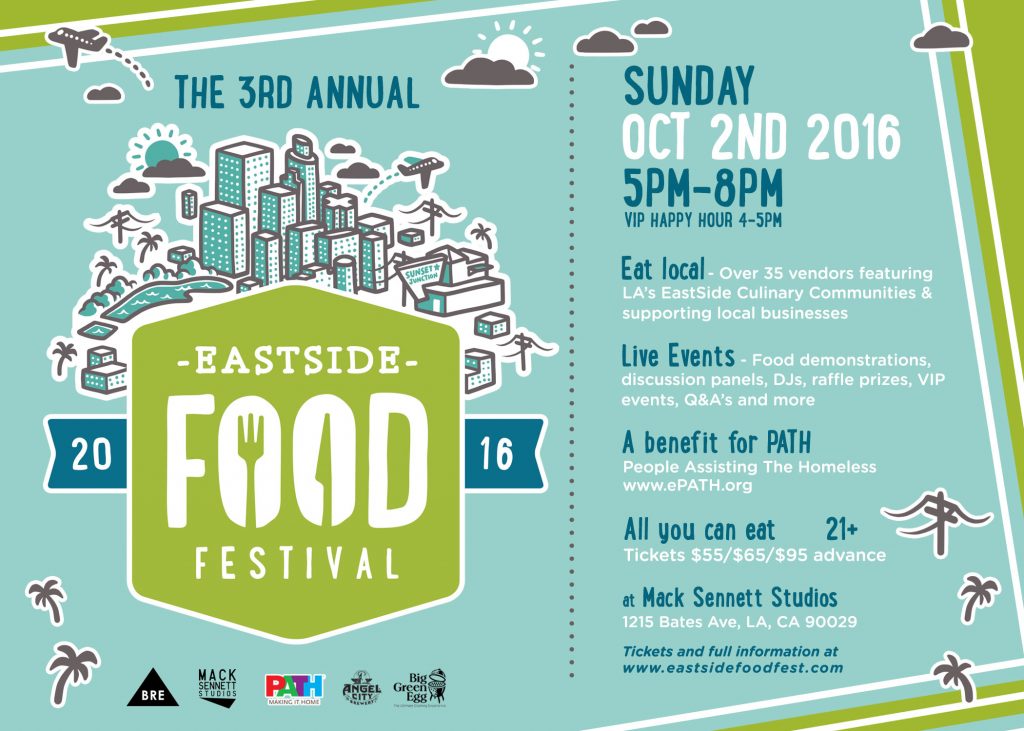 Sunday, October 2nd – City of Gold screening w/Jonathan Gold Q&A:  Presented by LA, Grow! at The Wiltern, the Laura Gabbert documentary on the Times' restaurant critic will be screened followed by a live Q&A with Jonathan Gold himself.  Tickets are $12 and may be augmented w/VIP upgrades and food tickets.  There's also an after party with more food options!
Sunday, October 9th – Pier del Sol:  A fundraiser for Special Olympics Southern California, this family-friendly event takes place at the Santa Monica Pier and includes exclusive access to the Pacific Park amusement center on the pier.  In its 20th year, the event honors chef Josiah Citrin (Melisse, Charcoal) for his consistent support of the fundraiser over the past two decades.  The line-up is top notch, with Angelini Osteria, Birch, Playa Provisions, Providence, and more participating.  Tickets are $175 for VIP ($60 for children), which includes access to the brunch, or $60 for GA, which includes unlimited ride access to Pacific Park.  For the 20th anniversary, event organizers have also put together a cookbook featuring 31 recipes from 28 chefs who have supported Pier Del Sol, which will be available for sale at the event.  (My write-up of last year's event.)
Sunday, October 9th – Brunch at the Races:  A veritable carb-fest, this LA Weekly event features Bru's Wiffle, Dupar's, Farmshop, Messhall, Preux & Proper, Tortas Ahogadas Chago, and more, at Santa Anita Park.  Tickets are $45/$65 for GA and VIP, respectively, with a "Short Stack Pack" of 4 GA tickets for $119 ($29.75 per tickets) available until a week before the event. (My BatR 2016 report.)
I've decided to break the October food event round-up into two parts and will get part two up by early next week.  Events to look forward to later in October:  Taste of Mexico (Oct. 15th), Taste of Washington West (Oct. 15th), Los Angeles Magazine's The Food Event (Oct. 16th), JACCC CrabFest w/Starry Kitchen (Oct. 22nd), and more! If I've missed an event, please let me know!