November & December 2016 Food Events in Los Angeles
Food festivals and events get a bit sparse during the last two months, with Thanksgiving and Christmas and other holidays. Right now I only have 3 on my radar, but please let me know of any others that I should be aware of!
November 4-6, 2016 – Taste Talks LA: This multi-day event, which includes several tasting opportunities as well as a full day conference of talks, panels, and demos, is coming to Los Angeles for the first time after starting in New York and running in Chicago as well. Hosted and curated by musician Kelis, the conference schedule includes discussions on the economics of the restaurant industry, food journalism, gender equality in the kitchen, and more. The participants include journalists like Evan Kleiman, chefs like Michael Cimarusti (Providence) and Karen Hatfield (Ody + Penelope), and others. The conference schedule is jam packed!
In addition, several food events are scheduled, including an Opening Night Party on Friday, a multi-course Mother of Pearl Dinner on Saturday night, two sessions of the All-Star BBQ on Sunday afternoon, and a Closing Night Chef Party on Sunday night. A Kitchen Sink Pass for $495 + fees grants access to all of the events, while other passes grants access to the conference. Individual tasting-only tickets are available for the All-Star BBQ for $49 + fee, with food from Simbal x Baroo, The Cannibal, Mainland Poke, and more (menu)! The Mother of Pearl dinner goes for $95 + fee (menu). All tickets and passes are still available!
November 12th – Baby2Baby Gala: The 5th annual fundraiser for this non-profit organization that provides essentials for low-income children up to age 12, such as diapers, clothing, and other necessities. Information on this year's gala is a bit sparse, but based on what I've seen of past events, it should be a star-studded affair. Participating chefs and restaurants from past galas included John Shook & Vinny Dotolo (Animal, Son of a Gun), Ludo Lefebvre (Trois Mec, Petit Trois), Ben Ford (Ford Filling Station), Walter Manzke (Republique), Steve Samson (Sotto), Ori Menache (Bestia), and more! Keep an eye on their website in the coming weeks for more info on the event, and I will update this post when I find out more!
November 13th – Japanese Food Festival: The Japanese Restaurant Association of America and the Japanese Food Culture Association are throwing a Japanese food festival, featuring unlimited ramen and other food samples, unlimited sake and beer tasting for those 21+, screening of Tsukiji Wonderland, a documentary about the famous fish market, demos, performances and more! Event is all ages, with tickets at $55 and $28 for adults and kids 4-12, respectively (prices go up on November 10th).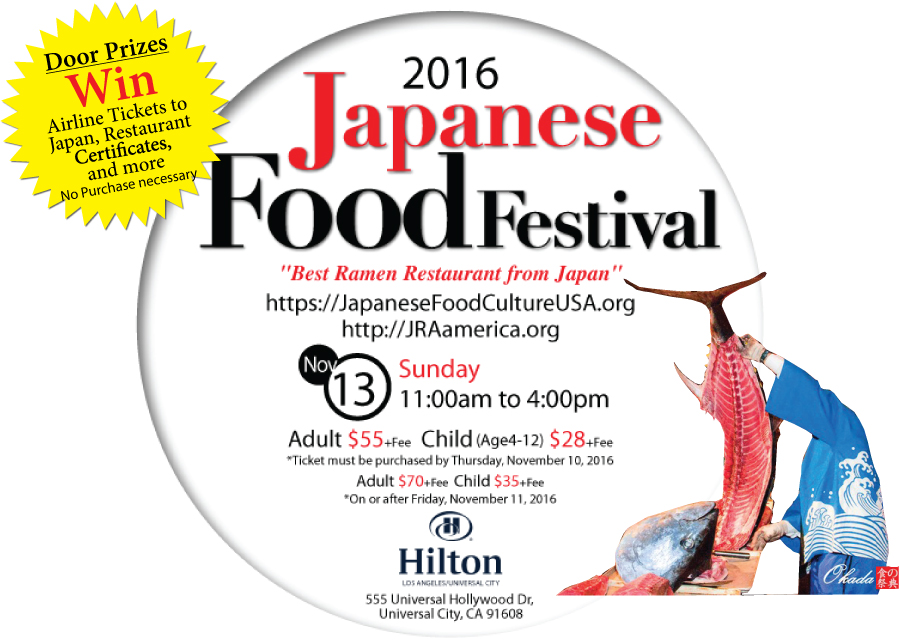 November 19th – California Coffee and Tea Trails:  This self-paced tour of Uptown Whittier includes a half dozen or so stops at local restaurants and shops, with materials provided to inform participants of coffee's and tea's histories, cultural significance, cultivation, and other facts and backgrounds about the two most popular beverages in the world.  Enjoy great food at Colonia Publica, beer and wine tastings at The Celler Bottle Shop, sweets at Emmy Doo's Ice Cream Shop, and end at Falak Hookah Lounge.  It's a great way to explore Whittier!  Tickets start at $40 and include coffee and/or tea at each participating venue, savory or sweet food pairings, and more.
December 2nd – LA Weekly's Sips & Sweets: This indulgent event features over 15 bakers and pastry chefs and over 20 mixologists. Enjoy sweets from Bearclaw Kitchen, Creme Caramel, McConnell's, Ococoa, Salt & Straw, The Gourmandise School, and WP24 by Wolfgang Puck. Sips will be provided by 1886 Bar at The Raymond, Birch, Broken Spanish, Chaya Venice, E.P. & L.P., Hinoki and the Bird, Otium, Sotto, The Lucques Group, The Roger Room, and more! Tickets are currently $45/$65 for GA/VIP respectively (they go up $10 on December 1st, if not sold out), and for the amount of alcohol flowing, it's a tremendous deal.