January & February 2017 Los Angeles Food Events & Festivals
Sorry folks for being MIA recently–just lots of stuff going on IRL.  Will be posting some recaps of events that I went to last month as well as a few restaurant reports, so look for that.  But first, here are two food events and festivals on my radar, one for each of the first two months of 2017!
Wednesday, January 18th – Best New Restaurants 2017 Celebration:  Los Angeles Magazine's annual shindig celebrating their, you guessed it, Top 10 Best New Restaurants of 2016.  The line-up is interesting… Whereas last year's event had I think all restaurants that opened roughly in 2015, this year we have at least one classic spot, like chef David Lefevre's MB Post, and a repeater, The Bellwether.  But there are plenty of legit new restaurants participating, including 71 Above, Erven, Here's Looking at You, and Howlin' Ray's!  Tickets are $75 + fee.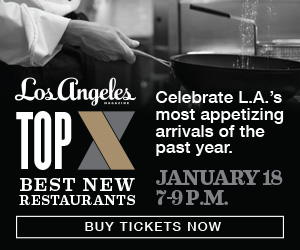 Saturday & Sunday, February 18-19 – LA Cookie Con and Sweets Show 2017:  If you're not careful, you can overdo the sugar at this event quite easily, but if you pace yourself and take advantage of the various talks and demos, you can have a blast without the crash at the end.  Rosanna Pansino of Nerdy Nummies and Duff Goldman of Charm City Cakes will be on hand, and there will be plenty of samples and a couple of contests too!  Tickets start at $25 for a one-day pass to $55 for VIP, with child admissions at a discount and weekend passes available too.
As always, if I've missed any events happening this month or next, please let me know!
Coming Soon:  A lot of food events coming up in March, including but not limited to PPLA Food Fare (March 2nd), All-Star Chef Classic (March 8-11),  COCHON555 (March 12th), Latin Food Fest (March 24-25), LA Weekly's The Essentials (March 26th).  Will do a more in-depth round-up next month!